Product    List

Contact    Us
DRILLTECH MANUFACTURING CO.,LTD.
Tel:+86-15532811817
Call:+86-317-2010189
E-mail:
dtc11@drilltech.cn
Add:Xinhua industrial zone, Juguan county, Xinhua District, Cangzhou City, Hebei Province, CHINA.
The bop and well control system technical support, testing, maintenance of one-stop solution for free with big customer
Magnetic Eddy Current Brake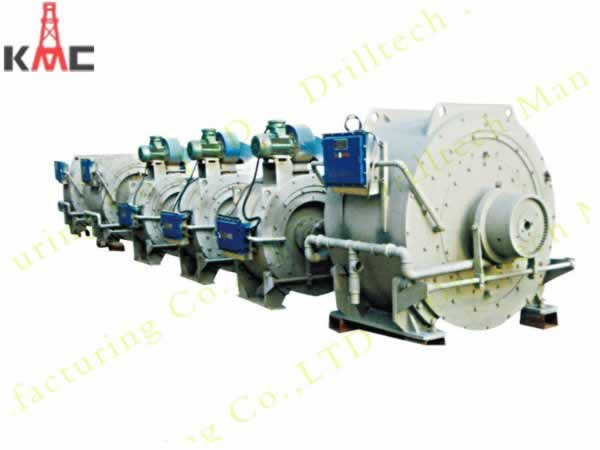 >>Technical Specification:
The electromagnetic eddy current brake makes zero wear brake by taking advantage of electromagnetic induction principle and having the features of large torque,without replacement parts,long lifetime,simple operation and maintenance.It includes air blast cooled(DSF) and water cooled(DSW) Series.DSF is featured by compact construction,small weight,convenient maintenance; DSW is featured by high output power,slowly warming, powerful adapitive capacity to environment. It is an ideal auxiliary brake suitable for petroleum drilling rigs of onshore and offshore, and it could provide auxiliary brake torque of 23KN~110KN for 500m~9000m rigs. It is working temperature is -30℃~55℃.
>>Technical Parameter:
Basic parameter

Model

DS(F)30

DS(F)40

DS(F)50

DS(F)70

DS90

DS120

Rated brake torque,KNm

23

33

55

98

110

130

The depth of well,m

3000

4000

5000

7000

9000

Max.no-load speed,r/min

500

500

500

500

500

Max.exciting power,kW

9

10

12

23

25

Flow of cooling water,L/min

150

190

285

560

600

Cooling wind rate,m³/h

4000

6000

12000

15000

18000

Highest outlet water(wind) temperature,℃

72

70

72

70

72

70

72

70

72

Highest inlet water(wind) temperature,℃

42

40

42

40

42

40

42

40

42